Seminars, workshops and other events
In addition to the courses, we intend to run a seminar organized by the students themselves. One major goal is to facilitate face-to-face interaction between all IMPRS-CPQM students, even though they may work in different fields of research. Further, the students can use this platform to learn about new scientific topics and simultaneoulsy improve their skills regarding scientific presentations and discussions. The topics of this seminar will cover the course material or the research performed by the students as part of their PhD project.
In the Curiositas seminar series, which is organized by our students, we present a variety of topics interesting to our student community - ranging from scientific talks close to their research activities to topics which have sparked their curiosity. You can find a list of all Curiositas talks here.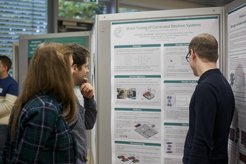 Several times per year, IMPRS-CPQM will organize multi-day events such as retreats, workshops, and summer or winter schools. These events will focus on particular aspects within the scope of IMPRS-CPQM and may be open to non-IMPRS students as well. We will announce the details for these events as they become available. If you are interested in seeing which events we had in the past, please have a look.
We also encourage students in IMPRS-CPQM to attend international conferences and workshops. These events give them a great opportunity to present their research to a wide community and thus establish their own scientific network.